Herbal Infusions Makes a Splash at Mapleview Mall

A small local Canadian tea company, Herbal Infusions is slowly becoming one of the best known tea vendors around. Since being one of the proud sponsors of the Canadian Country Music Awards in 2009, word has begun to spread, and this company is not one you want to miss.

Supporting the community and local economy, Herbal Infusions carries a number of local products along side imported fair trade teas. They are environmentally friendly, and eco conscious packaging their products in biodegradable compostable bags, recyclable tins, and wooden boxes that have been hand made out of reclaimed Canadian telephone poles.
Herbal Infusions has recently become a permanent resident at Mapleview Mall in Burlington. The tea cart that launched at the beginning of February this year has pleasantly surprised mall shoppers with the wide variety of gourmet loose leaf teas and accessories they offer. Not only are they reasonably priced, but you can be guaranteed quality tea and well designed, up to the minute products. They carry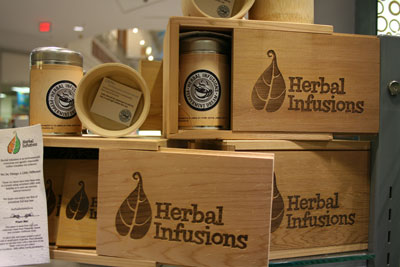 traditional favourites like English Breakfast, Vanilla Chai, and Earl Grey Green, but they also have signature gourmet blends that you can't find anywhere else like "Counting Sheep", an herbal tea that is sure to send you into sweet slumber; "Peppermint Dream", a refreshing herbal cup to help pick you up so you can get past the three o'clock crash; and "Gimme a Boost Immunitea" to help keep the cold and flu from creeping up on you. Dorian Grey is a sure bet if you are a tea latte lover, and Sencha Cherry Rose is well known for being a great cup of green.

From weight loss teas to the sweetest of dessert teas as well as a blend your own section, this company is certain to have the perfect cup for even the most discriminating tea connoisseurs. Mention that you read about them on our webpage when you visit the mall and you will get a free tea shot with your purchase. Too busy to get out to the mall? That's okay! Order online and save 20% using the coupon code "oakvillemoms" until the end of March.
web site: www.herbalinfusions.ca

Oakville Moms Review:
Being a tea lover, I was delighted when Herbal Infusions contacted Oakville Moms. I am impressed with the amount of teas they have to offer. Some categories: Teas for Life: Naturally rich in antioxidants; Teas for Health: For the mind and for the body; Flowering Tea: Individual tea leaves, hand-sewed with cotton threads. If you are not sure how to choose your tea, each tea has it's description, ingredients and the caffeine strength listed on their web site. I had the chance to try out Jasmine Green Tea Blend, Peppermint Dream and Serenitea. For me it doesn't matter the time of day when I have my tea, having a cup a tea is a chance to unwind and relax. It was really a ritual when I had my Herbal Infusions teas, smelling the scents and seeing the leaves expand with the water. All the teas I sampled were very good. Herbal Infusions is also helping the environment by packaging their teas with 100% biodegradable compostable bags. Why not treat yourself to a new specialty tea and relax. Give Herbal Infusion a try, you will enjoy their teas! The next time you are at Mapleview Mall, be sure to check out their tea cart.
Bonus: Take advantage of their 20% discount when you order online use coupon code "oakvillemoms" until the end of March.