"GO PAINLESS! enjoy the experience...love the results"™
This is not a cosmetic IPL as used in most salons. This is the most advanced and effective method available to permanently treat your unwanted hair - In fact our technology was recently show cased on the Emmy award winning TV show, THE DOCTORS.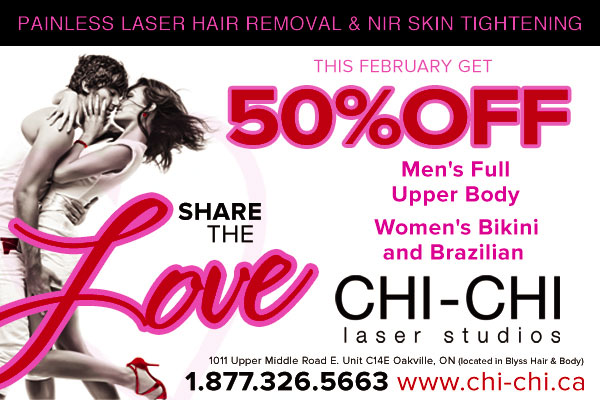 HURTING IS HISTORY - PAINFUL LASER HAIR REMOVAL IS NOW JUST AN UNPLEASANT MEMORY! IT DOESN'T HAVE TO BE UNCOMFORTABLE ANY LONGER:
Perhaps you're pain intolerant, or fair haired, or suffering with hormonal induced hair or maybe you've been told lasers are just not for you..well this is all about to change.

You can now enjoy pain-free laser hair removal on any part of your body, regardless of your age, sex, skin or hair type, regardless of your budget.

We offer a very advanced, PAINLESS laser hair removal procedure. It's performed via our next generation, government approved, medical grade Soprano XL, a continuous wave diode laser - the Gold Standard in hair removal and designed to do one thing and one thing only - permanently disable hair follicles from re-growing hair.

Other services performed at Chi-Chi includes Infrared Laser Skin Tightening Therapy which is an effective, safe and non-surgical procedure for tightening the skin by stimulating collagen rebuilding, leading to younger looking skin. This anti-aging treatment uses laser to restore the tone and tautness of the skin with no down time.
By way of introduction we're Chi-Chi Laser Studios, pronounced [Shee - Shee]...Adjective: affectedly elegant or trendy. Noun: a chi-chi person or thing - the quality of being chi-chi.

You might characterize many of our clientele as being affectedly elegant or trendy - entitled to the best as it were...well why not? It's true, many of our friends here at Chi-Chi not only expect the best life has to offer, they insist on it. Our philosophy has always been to make certain every client on every visit enjoys the highest caliber of personal service.
Gloria Loney
Chi-Chi Laser Studios
1011 Upper Middle Road East, Upper Oakville Shopping Centre located in
Blyss Hair & Body.
"enjoy the experience...love the results" ™
1.877.326.5663 or 416.855.9099
www.chi-chi.ca
PersonalService@chi-chi.ca
Follow us on Facebook & Twitter
ENTER CONTEST NOW:
This contest is open until March 5th, 2014. We want to hear from you! We are making this contest interactive, see the steps below:
Complete all steps to gain more entries.
1. It's open to members ONLY (you must be in our mailing list). Send your email to Oakville Moms to enter contest. (worth two entries).
2. "Like" Oakville Moms on Facebook. (worth 1 entry).
3. "Like" Chi-Chi Laser Studios on Facebook. (worth 1 entry). (We always appreciate it when you share on your wall - worth another entry.)
Oakville Moms Facebook page:
http://www.facebook.com/OakvilleMoms.fanpage

Chi-Chi Laser Studios Facebook page:
http://www.facebook.com/pages/Chi-Chi-Laser-Studios/166416333388895

When you have completed the above, send your email to Oakville Moms to enter contest. Please enter your contact info. Good luck!


Please note: Winner must respond within 7 days to accept prize otherwise another winner will be randomly selected. Please submit your full name when entering contest. Prize can't be combined or exchanged with other offers.


Oakville Moms
*DISCLAIMER* This Oakville Moms contest is in no way sponsored, endorsed or administered by, or associated with, Facebook. You are providing your information to Oakville Moms and not to Facebook. The information you provide will only be used for the Oakville Moms contest.