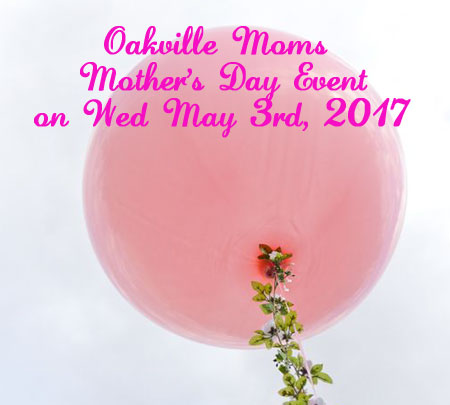 Oakville Moms Spring Event is happening Wednesday May 3rd, 2017 from
10 am to 1:30 pm at Busy Bodies Indoor Playground (245 Wyecroft Rd. Unit 3).
With your child's admittance to Busy Bodies, you get a chance to relax and meet moms from our community, shop from our local entrepreneurs and let the kids have fun at Busy Bodies.
See below some of the Vendors that will be participating. Be sure to check out each one, as they will be answering your questions, giving discounts when you shop and giveaways at their tables.
Thanks to our Sponsors, we will be serving complimentary at lunchtime (11:30 am) and refreshments. Be sure to arrive early to enjoy cupcakes compliments of Yay Sweets!
Send us an email if you will be joining us on this special day! Parents, Grandparents, Caregivers and kids are all welcome!
Keep checking back this page, as we will be updating it with more information. Help spread the word of our event and we hope you can all come.
(Please note: you and your child must wear socks while visiting Busy Bodies).
Stay tuned for more info. Want to be a vendor? Send an email.
Busy Bodies Indoor Playground is considered Ontario`s favorite "Hot Spot" to meet old friends and make new ones. With over 5300 sq. ft. of fabulous fun, children up to the age of 10 yr. old can strengthen their gross motor skills as they race down the wave slides, zoom through the spiral slides, zip across monkey bars and practice shooting hoops with our oversized basketball nets that even parents will love to engage in!

www.busybodiesplayground.com
245 Wyecroft Rd. Unit 3
Phone: (905) 337-8535

http://www.facebook.com/pages/Busy-Bodies-Indoor-Playground/162587183782727




Brag About It! Where One of A Kind Hand Stamped Jewellery is Created for JUST FOR YOU! Each piece is stamped by hand (mine). Using individual stamping tools, please note that NO two pieces are exactly the same. Each piece UNIQUE, DISTINCT and ONE OF A KIND. If you are looking for an EXCLUSIVE PERSONALIZED gift for special in your life or want a little treat for yourself, this is the jewellery for you.

DISCOUNT: 15% use code OAKVILLEMOMS15

web site: http://www.bragaboutit.etsy.com




Knowledge First Financial, a leading RESP provider. Growing RESPs Securely for more than 50 Years – Knowledge First Financial offers multiple plan options to meet your goals and budget while protecting your savings and capturing all available government grants & benefits. We have focused on encouraging and assisting Canadians to obtain a post-secondary education by providing peace-of-mind savings solution. Danijela is an expert at educating families on how to capture RESP government grants and benefits in a plan that are flexible and on track to meet both long term goals and today's budget.

Danijela Vracaric - Sales Representative
Website: www.knowledgefirstfinancial.ca/Danijela.Vracaric
Facebook: Click here
Email: danijela.vracaric@kff.ca
Direct Tel: (905) 928-9445

Stella and dot is a boutique-style jewelry and accessories company based in San Francisco that
creates flexible entrepreneurial opportunities for women. Our one of a kind collections are
designed by celebrated New York designers and featured in Gossip Girl, In Style and Lucky
Magazine as well as on the wrists and necklines of today's hottest celebrities. The Today
show, Wall Street Journal and The New York Times have praised Stella & Dot for our innovative social concept which bring together the best of ecommerce, social media, personal service and passionate earning to create the ultimate home based business for today's modern women.

Lillian Maalawy
Associate Stylist
www.stelladot.com/lillianmaalawy

Norwex Microfiber offers you a powerful clean with nothing but WATER! Our household cleaning products use natural enzymes for their incredible cleaning power, instead of harsh chemicals like chlorine ammonia and phosphates.

We at Norwex are on a mission to make each and every home a Safe Haven. We can improve the world around us by working together to radically reduce chemicals in our homes with simple, cost-effective solutions that truly work!

Diane Tassone
Norwex Team Coordinator
289-795-9802
dianesgreenhome@hotmail.com
www.facebook.com/DianeTassoneNorwexOakville
www.dianetassone.norwex.biz
Li'l Squirts is Canada's first mobile, full service, baby gear cleaning, installation and Repair Company. Our mission is to provide parents with peace-of-mind by helping them ensure a safe, clean and well-maintained mode of transportation for their children.

All of our cleaning products are non-toxic, baby-safe and eco-friendly. We feature BuggyLOVE in addition to other proprietary Li'l Squirts cleaning products that are made with aromatics, essential oils and all-natural disinfecting agents to rid baby gear of bacteria without the risk of harming the children.

Our cleaning process and maintenance procedures do not impact the integrity of the Baby Gear. Our staff are CPSAC certified to install car seats and educate parents on proper Car Seat safety procedures.

www.lilsquirts.ca
www.facebook.com/lilsquirts

Osteopathy is a form of manual therapy aimed at treating musculoskeletal problems using gentle soft tissue techniques (similar to massage), joint articulation, muscle stretching, exercise and lifestyle advice. These, in combination with techniques focused on visceral/cranial structures, aim to restore balance between the musculoskeletal, neurological, cardiovascular, respiratory & digestive systems.

Moms & Babies
Stresses and strains from labour and pregnancy can lead to unsettled behaviours and difficulties with feeding, winding, bowel movements and sleeping. Relieving any physical strains with gentle osteopathic techniques can be helpful/relaxing for your baby. During the post-natal phase, osteopathy can help Mom's body to return to normal (particularly after a difficult pregnancy/labour) and to resolve any physical issues that may arise in caring for a new baby.

Older Children
Monitoring developmental progression and/or addressing effects of any physical problems can help your child through their early growth and learning. Osteopathy for older children may help with issues arising alongside rapid phases of growth/puberty, such as growth related bone pain, spinal asymmetry, postural fatigue, sports injuries, anxiety and headaches.


Hania Mastroddi (Osteopathic Manual Practitioner)
Phone: 905-825-9996
Email: info@onwc.ca
Web site: www.onwc.ca
Address: Oakville Naturopathic Wellness Centre
#22-2172 Wyecroft Road,
Oakville ON




SweetLegs, a proudly Canadian leggings company, was launched in April of 2014. Since then, SweetLegs has grown into a national leggings brand with over 300 Independent Distributors across Canada. We have been fortunate to be part of this amazing company for almost 2 years! The company's philosophy is that every body deserves to be stylish and comfortable. This philosophy is behind the amazingly affordable, in-house designed prints, renowned kitteny soft fabric, and inclusive size range. SweetLegs offers an industry-leading 30-day warranty/exchange. There are 3 kids sizes that fit sizes 2-12 and 3 adult sizes that fit sizes 00-22 approximately. Self-confidence is the best outfit, Rock it & Own it!

SweetLegs Mississauga with Christine and Taylor
SweetLegs Independent Distributor
www.facebook.com/sweetlegs.mississauga.christine


Playbox Nursery School - Where Learning is fun!!!
Playbox Nursery school offers half day programs for children aged 18 months to 4 years old.
We have been servicing the Oakville community for over 30 years. We offer a toddler, preschool and JK programs with the option of staying for lunch as well. Our teachers with their many years of experience
create a fun and loving environment for your little one to learn and grow. We are located in old Oakville and have beautiful outdoor playground.

Please give us a call 905-849-4411 to come see our centre and find out when we have our Toddler Afternoon drop in days!

www.playboxnurseryschool.com

Yay Sweets

Cakes and cupcakes specialist!

Telephone: (416) 893-5715
Other: (289) 644- 5792
Oakville, ON (By Delivery Only)
e-Mail: asahmkow@gmail.com
http://yaysweets.com

Essential Oils for the whole family! Some of our favourites are On Guard, Lavender, Peppermint and Lemon!
Stop by and try some sample and order yours today!

Order at the event and save $22 on shipping and pick up at Busy Bodies (Oakville).

Amanda Silva-Independent Consultant
Direct tel: 905-510-4004
Email: amandadvsilva@gmail.com
Website: amandasilva.arbonne.ca

Artisan Pizza

There comes a point in the life of every great craftsman where a superior level of accomplishment is reached and the title of true artisan is bestowed. It could be a painter who just finished the ceiling of a great chapel or an architect who just spanned San Francisco Bay. It could even be a highly respected director who just finished his 100th infomercial. Your next meal can be a true artisan experience.

Pizza is the world's greatest food and now you can enjoy the best slice in Burlington.

Made with fresh, all natural ingredients, Artisan Pizza is raising the bar by crafting a slice that's second to none. Get wings, panzerotti, salads and more! Your next meal deserves a craftsman's touch.

www.artisanpizza.ca
Phone: (905) 333-3355
Address: 2444 New Street, Unit 4, Burlington,
ON L7R 1J6

4Cats Oakville
2379 Trafalgar Road
Oakville ON
289-937-1788
oakville@4cats.com
www.4cats.com/oakville